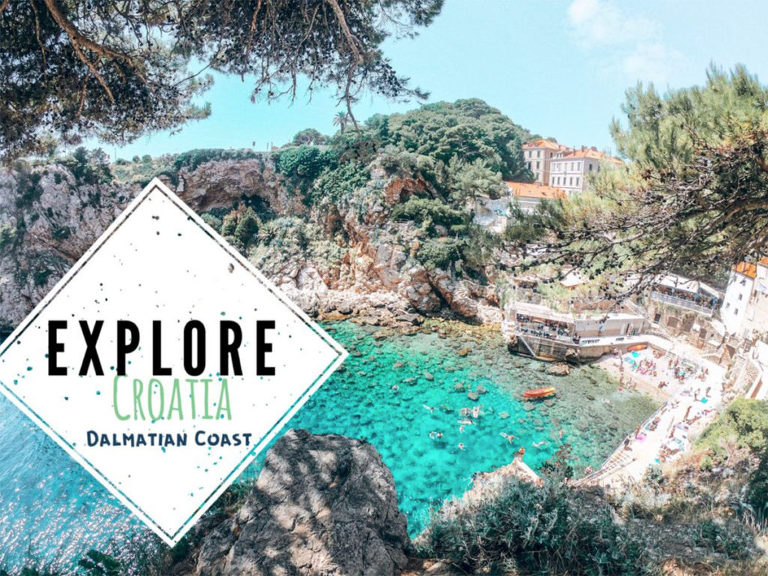 I first thought about Croatia YEARS AGO! At the time, it was out of our budget and I was a little overwhelmed at all the possibilities Croatia had to offer, so I put it on the back burner. This summer was the summer to make it happen. Do not follow my example, move Croatia up on your vacation list. This is one of the most beautiful European countries I have ever been to!
We spent a month in Croatia while working remote with another couple. 
Working remote is totally achievable between time zones. We spent our days exploring the sites – from sitting on the beach, to rock climbing, exploring national parks and visiting roman ruins. In the evenings we cooked dinner, soaked up the view and worked U.S. hours. 
There are three major cities in Croatia that we recommend for tourists – Split, Zadar and Dubrovnik. By far, we would recommend focusing your time on Split and Dubrovnik. Split was our main base as it is in the middle of the country and easy to get to any major destination within the country. We wanted to spend time around national parks and explore many of the beautiful islands so Split is a good base camp to plan your excursions. 
Split & Dubrovnik
From the Diocletian's Palace or Klis Fortress in Split to Old Town in Dubrovnik. These are beautifully preserved monuments and towns in Croatia. Simply put, the size of the stones and the monuments took my breath away. I'll add that the Croatian people take pride as these impeccably clean.
The Food
One of the most enjoyable parts of visiting any foreign country is trying out interesting foods. Fish is KING here! We had fresh fish available to us at every stop along the way. One of my favorites is the Octopus! Be sure to check out my post on one of the restaurants we tried in Dubrovnik!
Split, Croatia
Islands off the Coast of Zadar, Croatia
There are many tour companies where you can book one day boat excursions to the many hundreds of islands in Croatia. There is even a Yacht Week that rivals parties in Ibiza. Hvar is one of the most popular islands, but in our experience, all islands are beautiful. If you are looking to stop and explore a bigger island city, Hvar or the islands near it are best. 




Plitvice National Park
Plitvice is a group of 16 natural lakes and is a UNESCO heritage site due to its breathtaking views, its fauna and the unique turquoise waters of the lakes.
Plitvička Jezera National Park is located in the middle of the country and is about 130 km from the capital of Zagreb which is great, because it is an easy day trip from Zagreb or from Split.
Are you in the mood for some Plitvice Lakes swimming? Unfortunately for you, swimming has been forbidden in the park since 2006. But I have some good news, too! In case you really want to swim in some wonderful, turquoise water, you can do so in Krka Waterfall National Park in Dalmatia. This park is only 2 hours away from Plitvice and you can soak there for however long you please, although you can't actually swim under the waterfalls.
Here's our Highlight Reel!