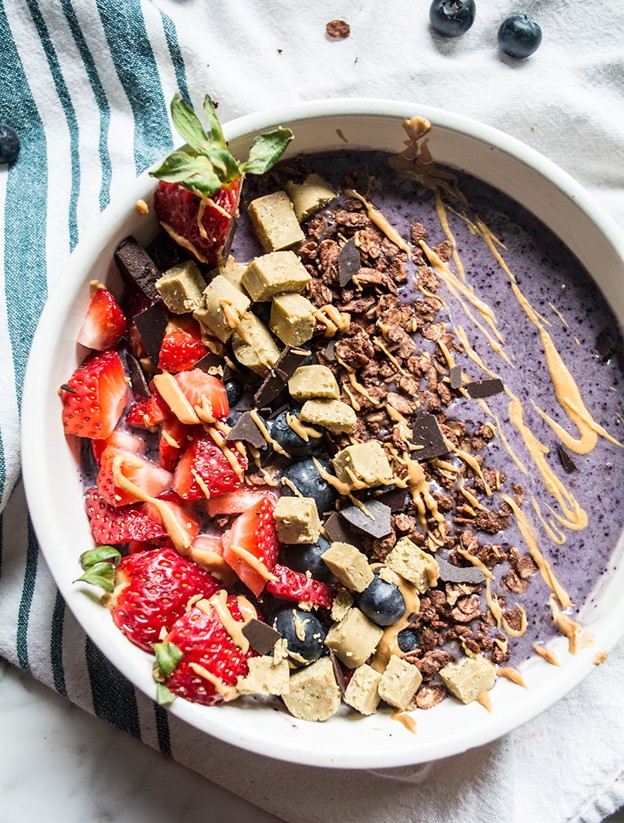 This Vegan Blueberry Breakfast Bowl is a combination of all my favorites. The creamy smoothie base is made up of 5 simple ingredients – banana, blueberries, almond milk, dates, and peanut butter. Then topped it with Real Food Bars (peanut butter flavor) – seriously so yummy! Along with fresh blueberries, strawberries, creamy peanut butter and vegan chocolate.
It's basically a vibrant bowl of nutrition, full of creamy, crunchy, delicious goodness! Not a bad way to start the day if you as me. I've had my fair share of smoothies over the years and love the convenience of taking breakfast on the go. But this breakfast bowl definitely takes things up a notch.
The lovely addition of the crunchy granola is like adding brownies to your favorite ice cream. The ice cream was good on its own, but now there's something to chew and savor. And of course, there's no such thing as too much fresh fruit OR peanut butter. So using them as toppings just seemed like the natural fit.
If you're looking for a healthy breakfast, that is almost dessert-like without the guilt – try this Vegan Blueberry Breakfast Bowl!
ALLL THE REASONS TO MAKE THIS VEGAN BLUEBERRY BREAKFAST BOWL + PROTEIN:
5 ingredients + toppings
Gorgeous burst of colors
Nutrition Packed
SO easy
Works as breakfast, snack, or healthy dessert ??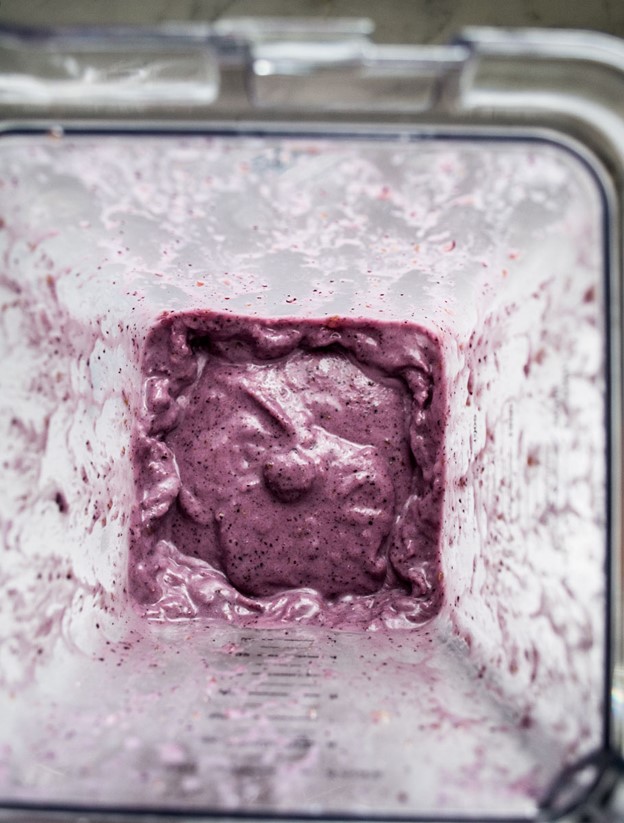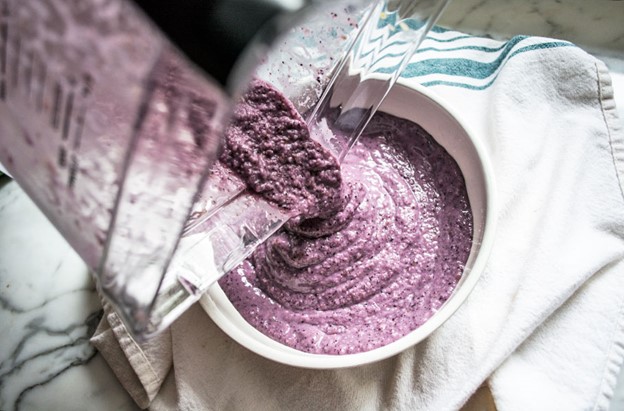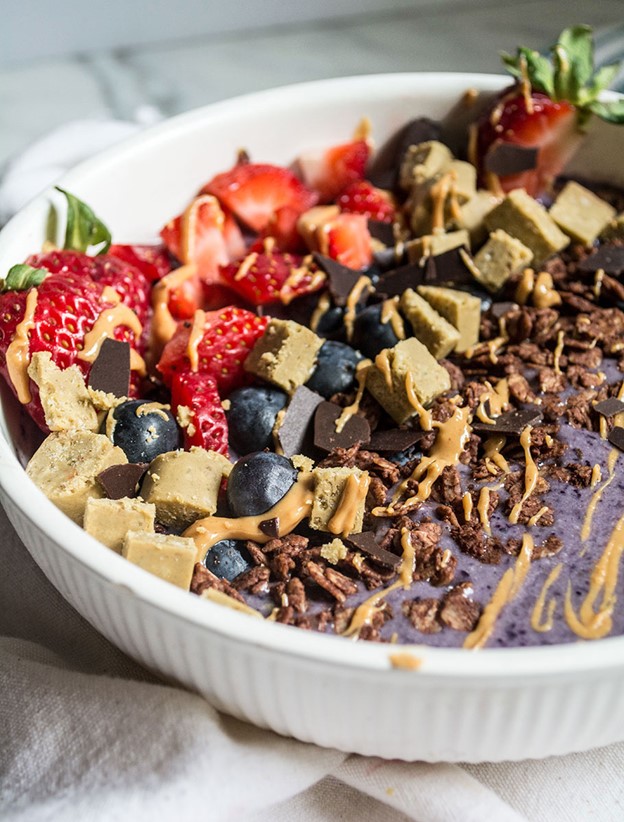 Vegan Blueberry Breakfast Bowl
This Vegan Blueberry Breakfast Bowl combines smoothie, fresh fruit, and peanut butter all in one vibrant bowl of nutritious goodness!
Prep Time: 10mins
Course: Breakfast, Breakfast/Brunch, Breakfast/Dessert, Breakfast/Snack, Granola/Breakfast
Keyword: almond milk, banana, blueberries, dates, peanut butter
Servings: 1
Calories: 352kcal
Author: Kaylee Pauley
Ingredients
FOR THE SMOOTHIE:
1 banana frozen
1/2 cup blueberries frozen
1/2 cup almond milk I used Vanilla Unsweetened
1/4 cup dates pitted
1 tbsp peanut butter smooth
6 ice cubes
SUGGESTED TOPPINGS:
fresh strawberries
fresh blueberries
cacao nibs or vegan dark chocolate
peanut butter smooth
GET INGREDIENTS
Instructions
Add frozen banana, blueberries, almond milk, pitted dates, peanut butter and ice too high power blender. Blend until smooth.
Add to bowl and top with your favorite toppings. Enjoy!
Notes
Nutrition info is only for the smoothie recipe and does not include any toppings.
Nutrition
Serving: 1g | Calories: 352kcal | Carbohydrates: 68g | Protein: 16g | Fat: 10g | Saturated Fat: 3g | Sodium: 162mg | Potassium: 763mg | Fiber: 10g | Sugar: 42g | Vitamin A: 450IU | Vitamin C: 18.2mg | Calcium: 290mg | Iron: 1.4mg